South Baltic WebLab
Where the sea meets the river - Blog
...and breathe!
06.11.11, 14:34 (comments: 2)
Exams: DONE
Presentation: DONE
So now I can relax!? Well, not quite, as I now have another essay and presentation to do for Coastal Zone Sustainable Tourism (CZST)... I did, however, treat myself to a day of sleep and movies and had pizza delivered with my two flatmates, Helena and Carla. The presentations were hard work but somehow, we managed to finish on time and everybody came out with very respectable marks! So for any of my colleagues reading this, I would like to say congratulations for doing such amazing work and also thank you for pulling me through too!
In the classes of CZST, we have discussed tourism here in the Baltic Sea and visited a few touristic locations, such as Palanga and Nemunas Delta Regional Park. It was very interesting to compare Lithuanian coastal tourism to that of southern Portugal, in particular, the Ria Formosa Lagoon. The activities vary so greatly between these areas that it gives a great idea of how diverse coastal tourism can be. I think the main aspect here is the contrast in climates. The Ria Formosa offers warm shallow waters where people can swim and do various water sports for around 8 months of the year. Diving and snorkelling are also on the cards and during the summer season, it becomes crowded with tourists who are not only attracted by the sun and the sea but also by the cheap resorts where alcohol can run freely. Lithuania, on the other hand, offers a somewhat more relaxing holiday experience. Sure, it has the pure white beaches and in summer the weather can be wonderful (so I've heard!) but it also has many other natural gems to offer. One which I have to try is the famous traditional sauna on the Curonian Spit. This involves sitting in the sauna until you are roasted like a Christmas turkey and then running at full speed to the freezing bliss of the Baltic Sea. It is said to be very good for circulation and from what I've seen on peoples' faces as they jump in the water, quite an experience!
As far as I can tell, the way of life in the more rural areas of Lithuania is simple, but then the same can be said about Portugal. I guess the pace is at different settings and the variations in culture make a big difference to your experiences!
Here is a slide taken from our presentation. It deals with one of the many problems we had to solve in our imaginary lagoon. We chose the stingray - R.I.P. Steve Irwin.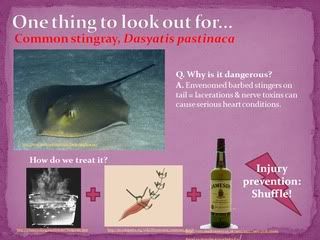 Here are 2 of my EMBC colleages, Josip and Dimos, giving their presentations whilst being evaluated by our coordinator, Marija Katarzyte, and our professor of Fisheries and Aquaculture, Dan Minchin. (Photo: Dan Minchin)
My colleages and I from the Fisheries and Aquaculture course (L to R: Me, Carlota, Helena, Zaida, Sofia, Edem, Alvaro, Laura, Josip, Dimos, Marina, JC, Inés, Joana, Carla and Leticia) with Sergej Olenin, Marija Katarzyte and Dan Minchin in the front row. (Photo: Dan Minchin)
Comments are being moderated. It might take up to a day before a comment is authorized.