South Baltic WebLab
Where the sea meets the river - Blog
Where does all that fish come from?
27.11.11, 16:00 (comments: 0)
Hello again, friends of the sea!
The weather has finally taken a turn for the worse here in Klaipeda: gale force winds and lots of sideways-blowing rain that likes to hit you in the face unexpectedly! I can't say we weren't expecting it though, after these last 3 months of nice, dry, relatively warm weather (for a Lithuanian Autumn)
I'm still plodding along with revision and database contributions so, unfortunately I have no interesting stories for this week. The end of my courses are, however, creeping closer and closer! I have my final exam on Wednesday for Coastal Zone & Sustainable Tourism and my database entry deadline for Aquatic Invasive Species is the day after. It will be nice to finish my courses so I can focus on researching my thesis, which I will be doing in the beautiful city of Porto in North Portugal.
So, without further ado, I shall discuss this week's topic concerning aquaculture in the two lagoons I have been comparing over the last few weeks; the Ria Formosa in South Portugal and the Curonian Lagoon on the Lithuanian coast of the Baltic Sea.
Aquaculture in Portugal is modest, with approximately 10,000 tonnes produced every year, around half of which is shellfish. Despite these low levels of production, expansion is ongoing and it will hopefully become a more important source of protein for both its occupants and as a means of income via exportation in years to come (information gathered from: Aquaculture Europe 2010 Conference). Aquaculture is mainly centred around the Algarve and in the Ria Formosa Lagoon, clam production is very popular and constitutes around 90% of Portugal's clam production. This form of aquaculture has a relatively low environmental impact compared to other aquaculture practises but the digging and removal of clams can introduce anoxic sediment and nutrients into the water column which can encourage algal blooms and turbidity. Harmful algal blooms can be a problem for clam farming as clams can accumulate toxins from algae and even cause Paralytic Shellfish Poisoning in humans if not properly monitored (Study Site Report Ria Formosa Coastal Lagoon - Portugal · ECASA Project 2008).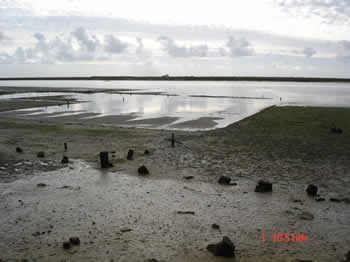 Clam culture in the Ria Formosa Lagoon (http://www.ecasa.org.uk/Riaformosasitepage.htm)
In contrast, aquaculture in the Curonian Lagoon is absent. Unfortunately, conditions in the lagoon are not suitable for aquaculture at present due to the high levels of pollution and eutrophication. However, as presented by one of my professors, Anastasija Zaiko, aquaculture may very well be possible by the year 2015 if discharge of pollution is mitigated and restoration and bioremediation methods are implemented (information taken from powerpoint presentation accompanying 'Mussel farming in the CuronianLagoon ‐challenges and perspectives' workshop given by A. Zaiko in June, 2011).
The invasive zebra mussel - a suitable bioremediant for the Curonian Lagoon?
I think it's easy to see that with the massive overexploitation of wild fish stocks worldwide and future scenarios looking very problematic for the fishing industry (Worm et al., 2006), aquaculture will become necessary in providing food for the global population. We should invest in making aquaculture more sustainable and less impacting on the marine environment now, before these problems reach a point of no return...
Global loss of species from large marine ecosystems (LMEs). (A) Trajectories of collapsed fish and invertebrate taxa overthe past 50 years. Data are shown for all(black), species-poor (<500 species, blue), and species-rich (>500 species, red) LMEs. (B) Map of all 64 LMEs, color-codedaccording to their total fish species richness (Worm et al., 2006).
References:
(Worm, B., E. B. Barbier, et al. (2006). "Impacts of biodiversity loss on ocean ecosystem services." science 314(5800): 787).
http://www.io-warnemuende.de/tl_files/bio/ag-ikzm/Musselworkshop/pdfs/Zaiko_Ecological%20features%20of%20the%20Curonian%20Lagoon.pdf
http://www.ecasatoolbox.org.uk/the-toolbox/eia-country/study-site-results/study-site-reports/imar-ria-formosa-study-site-report
Comments are being moderated. It might take up to a day before a comment is authorized.